Leak: Once again data-miners have struck gold and have leaked that a new consumable called Junk Rift, is hitting the Fortnite Battle Royale shortly!
Fortnite recently got updated to v10.10 yesterday and many new files were added with this update. An array of new upcoming cosmetics have been found by these data-miners such as – Skins, Pickaxes, Consumables plus much more.
Junk Rift is one of these items, and it features in Week 3 loading screens so based on that we have some idea how this item works.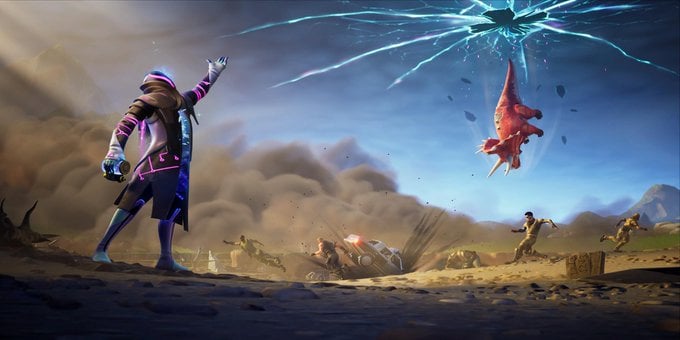 From the look at loading screen above, it seems that you can open up a rift, or a Junk Rift I should say, and drop a plethora of items on top of your unsuspected foes. This will deal damage to them and more than anything leave them confused as hell depending on what random junk has caused them a concussion, imagine fighting away and then WHAM a dinosaur has landed on your face – I can't think of anything more brilliant. Junk Rift I assume will have random properties, so you could be in for a treat or horrible a defeat.
Are you intrigued by this new consumable? do you think data-miners will leak anything more from Fortnite? Let us know in the comments below!
As always, in the meantime, why not check out and subscribe to our YouTube Channel here! Think you have a news tip or want to get involved? Email us at [email protected]