Though no official word has come from Epic Games yet about the new Split-Screen mode, we can expect that this news will be announced during The Game Awards later today, however, we do know a split-screen mode is coming thanks to a Fortnite support page which accidentally leaked this information.
Split-screen mode for Fortnite is supposed to come later today as part of the new update, however, will only be available for PS4 and Xbox. and will only be available in Duos and Squads. The support page also mentions that split-screen will not be available in creative mode, limited-time modes, Save The World or solos. You can see the full support page below: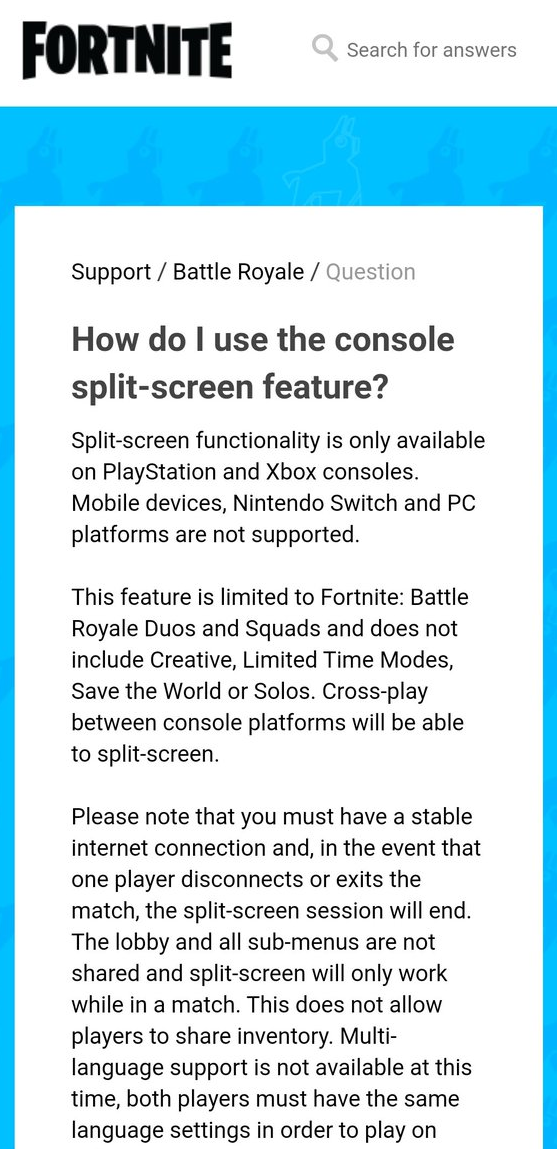 Epic Games have stated that they will be announcing some Fortnite news at The Game Awards, so we are sure we will see a split-screen announcement during the show as well as maybe some other new news.
Are you excited for Split-screen mode to come to Fortnite? Let us know in the comments below. If you enjoyed this article why not share it on social media.
Got a news tip? Email [email protected]
MORE: Nintendo Indie Showcase Livestream Tomorrow
MORE: Bioshock 4 Confirmed and In Development