Release date – November 2019 
Price 
Currently all that is available to pre-order is the Founder's Edition, which costs £119 and includes 3 months of Stadia pro, a limited edition night blue controller, a Chromecast Ultra and first dibs on your Stadia username. 
There are two subscription packages: 
Stadia Pro costs £8.99 a month and is similar to subscriptions like Playstation Plus or Xbox Live Gold. You'll gain access to regular free games (Destiny 2 on launch) as well as discounts on select games. Pro will also enable players to steam in 4K with surround sound. 
Stadia Base is more limited, being a free service it will act similarly to services like Steam, creating a platform for players to purchase games. Unlike Stadia Pro there will be no 4K capability, though streaming will be able to reach 60fps with stereo sound. 
How does it work? 
Games will be streamed via Google's data centres, meaning you'll be able to play games on the max settings on devices ranging from phones to high spec PCs without a change in quality. Of course this means that you'll always require an internet connection to play your games, and the minimum speed requirement is 10 Mbps, which will enable streaming in 720p. In order to reach the likes of 4K, 60fps, surround sound gaming you'll need a speed of at least 35 Mbps.
You'll be able to pick drop straight into games whenever you like via the Chrome browser, you'll be able to go from watching a video about a particular game on Youtube to playing it at a moment's notice. 
Games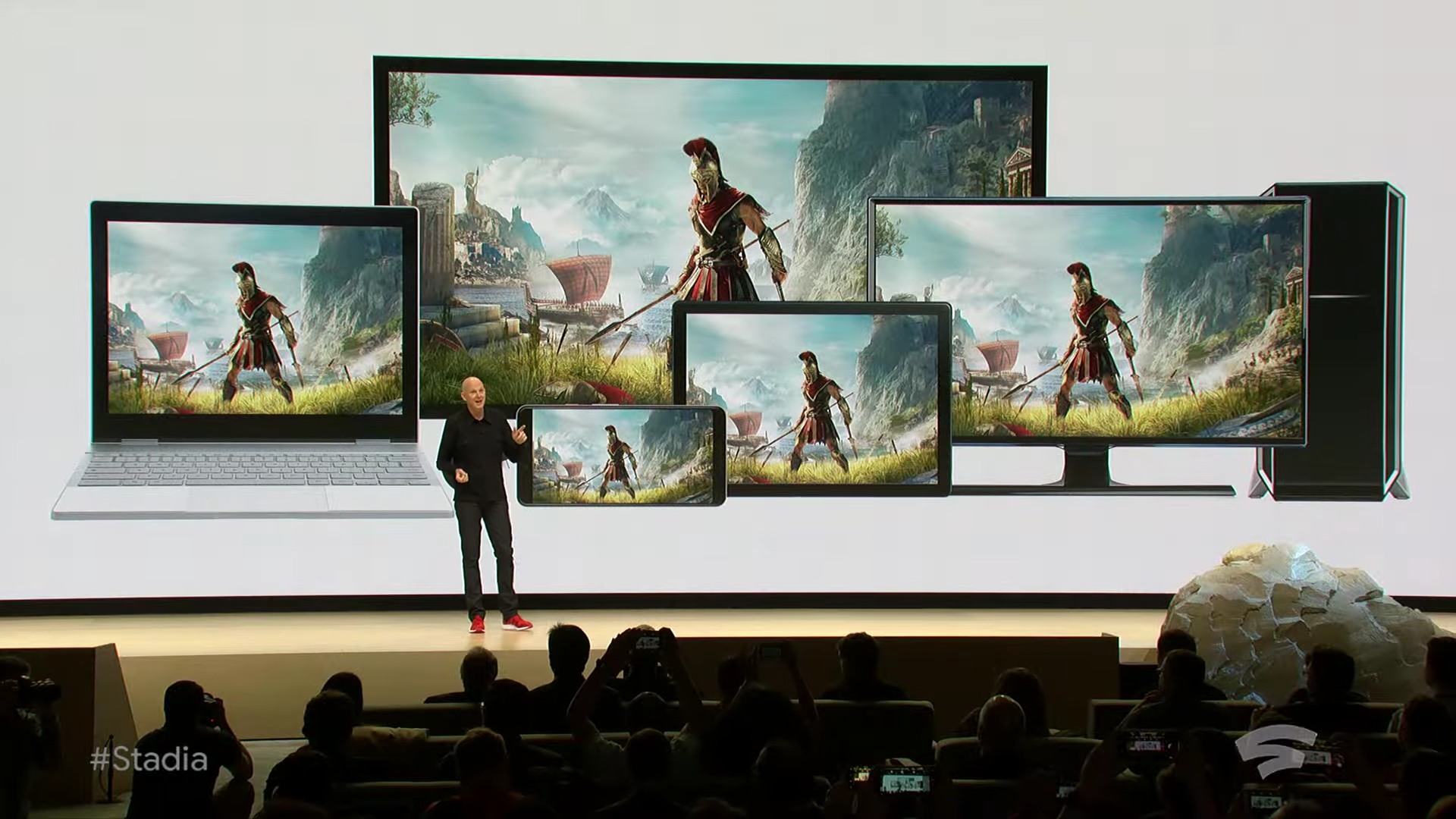 There have been a whole host of games announced to be coming to the platform, with some of the standouts including: 
Assassin's Creed Odyssey

Marvel's Avengers 

Borderlands 3 

Destiny 2 

Baldur's Gate 3

The Division 2 

Doom & Doom Eternal

Gods and Monsters 

Metro Exodus 

Football Manager 2020

Rage 2 

Rise of the Tomb Raider 

Watch Dogs Legion

Wolfenstein Youngblood
Hardware 
Upon launch the service will be limited to Google products such as Chromecast ultra (required for 4K), Google Chrome and Pixel smartphones. This is due to Google's infrastructure and will enable them to fully manage the service until it's ready to launch on other devices. 
Google has unveiled the official Stadia controller, which will be compatible from launch with any of the devices that can be used to stream games from. Additionally other controllers such as the Dualshock 4 will be compatible with Stadia further down the line. 
Other stuff
Achievements will be a part of Stadia, though not at launch. 

Games you buy are yours, you'll be able to download your game data including save files. 

Social aspects of games play a big part in Stadia, so there will be friends lists, communication, parties and voice chats available. 

The controller includes a headphone jack for wired audio but won't support Bluetooth audio at launch, you can connect a Bluetooth headset to your phone or PC as an alternative though. 

Family sharing will be available next year, rather than at launch. 

The parental dashboard will be available at launch for parents to control childrens' experiences. 

Cross platform functionality is a big priority.

Mod support won't be available at launch but is a target for further down the line.